Christmas Light Installation in Bakersfield
Let us install beautiful Christmas Lights
on your home this holiday season.
Learn More
When it comes to Christmas light installation in Bakersfield, the Light Guys is the go-to company. We have years of experience handling outdoor holiday lights and holiday lighting installation in Bakersfield, and we always come highly recommended by our many satisfied customers. So, if you've been looking for a team of lighting designers to help with your Christmas light installation in Bakersfield, then don't hesitate to give us a call. We're always standing by to help design the Xmas lighting scheme of your dreams!
Professional Holiday Lighting Installation in Bakersfield
Setting up holiday lighting can be a real pain. That's why the LIght Guys offer professional holiday lighting installation in Bakersfield! Each of our lighting designers and installers is guaranteed to have the experience and knowledge necessary to create the holiday lighting display of your dreams. From colored Christmas string lights to lighting your ornamental Xmas lawn display, we have you covered! So, rather than worry yourself about your Christmas lights this year, why not let the professionals here at the Light Guys handle it for you?
Let Our Bakersfield Xmas Light Installers Handle Your Outdoor Holiday Lights this Year
With Light Guys Christmas Lights, there is something available to fit any requirement you have. We can trim the house with simplistic lights to bright for a subtle look. Or if you plan to go all out this year, we can string colorful lights almost anywhere around the yard.
We want to ensure your house is decorated to every detail you dream of in the most professional way possible. You sit back and relax as we do all the work from measuring, designing to installing. Come January, we will remove the Christmas lights and store them until next season.
When it comes to Holiday Light Installation Bakersfield, You Can Always Rely on Light Guys
So, if you've been looking for a company that can help you with your Holiday light installation Bakersfield, you've come to the right place. Each of our lighting designers and installers has the training and experience needed to handle all your holiday light needs. From designing your new display to installing it for you, we truly are a full-service lighting company. So, what are you waiting for? Contact our team of Bakersfield Xmas light installers for help with your outdoor holiday lights today!
We do the work,
You relax.
Transform your house this season with our endless christmas lights, installed professionally by The Light Guys. All you have to do is create the memories, we'll handle the rest.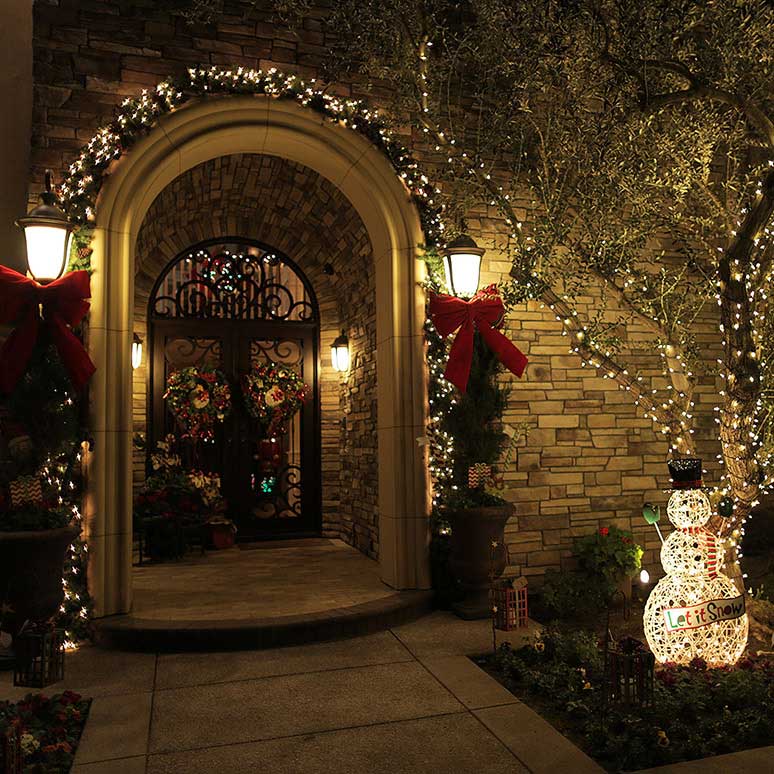 Excellent work! We couldn't be more pleased and the work that The Light Guys did was amazing. We are going to take full advantage of our backyard this summer!

- Andy & Susie Gladstein
Bakersfield home owner
Bakersfield Christmas Light Reviews
Weddings
•

Parties

•

Installs

Let's Light It Up!