Sound & Video
Whether it's indoors or outdoors, you've found
the expertise for all your audio and visual desires.
Learn More
Light Guys is more than lighting. We strive to bring your dream of the perfect area and make it a reality. Stringing lights is only a part of what we can do for you. To take your home to the next level, we can provide the whole package needed.
Bringing in sound and video systems is the final touch your home or event needs to take it to the extraordinary level. If you're hosting the party of the year, you'll want the sound to match that. On top of that, adding a visual system will leave your guests in awe of their surroundings.
Light Guys Sound and Video Systems are high-quality to match every expectation you may have. Our professional technicians will install every piece needed to ensure your sound fills the air with no glitches.
Your guests will be able to dance the night away with amazing sounds in a room sparkling with special visual effects.
Kick off your
summer right.
Transform your backyard with Italian-style lighting installed professionally by The Light Guys. All you have to do is bring the memories. We'll take care of everything else.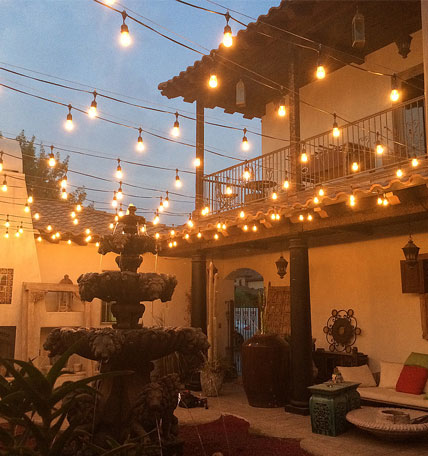 Excellent work! We couldn't be more pleased and the work that The Light Guys did was amazing. We are going to take full advantage of our backyard this summer!

- Andy & Susie Gladstein
Bakersfield home owner
Sound & Video System Reviews for Bakersfield
Weddings
•

Parties

•

Installs

Let's Light It Up!