Your Perfect
Bakersfield Landscape Lighting
Let us make your Home the beautiful
place you've always wanted.
Learn More
When it comes to Bakersfield landscape lighting and related services, the Light Guys are the ones to call. Whether you are looking for practical lights as you enter the yard, or wanting to wow your guests at the next backdoor gathering, landscape lighting is essential to make the home aesthetically attractive. You want your home to stand out from the rest. Let Light Guys help you achieve that goal.
What Does Landscape Lighting in Bakersfield Include?
Bakersfield landscape lighting can include:
Illuminating the entrance by lining the driveway
Adding an edge to the backyard pool
Highlighting a favorite feature of the house
We have many ways of taking your home to an extraordinary level.
The Light Guys Can Handle all Your Bakersfield Landscape Lighting Needs
The Light Guys' process is so well-conceived that it leaves no work left for you to do yourself. All you have to do is sit back and let our professional Bakersfield landscape lighting experts inspect the landscape of your home to create a detailed design. Upon approval of our design, our technicians install everything needed to go beyond your expectations.
Contact the Bakersfield Landscape Lighting Experts at The Light Guys Today!
When you are ready, let Light Guys completely transform your home's landscape lighting with radiant lights. You take pride in your home. We want to help show that pride.
We Offer Italian-Styled Lighting Solutions in Bakersfield, Too!
Transform your backyard with Bakersfield Italian-style lighting installed professionally by The Light Guys. All you have to do is bring the memories. We'll take care of everything else.
Brilliant Bakersfield Outdoor
Landscape Lighting
Tired of coming home to a dark gloomy house? Bakersfield landscape lighting will transform your house and make it look great at night. Here at the Light Guys, we pride ourselves on transforming peoples houses with lights.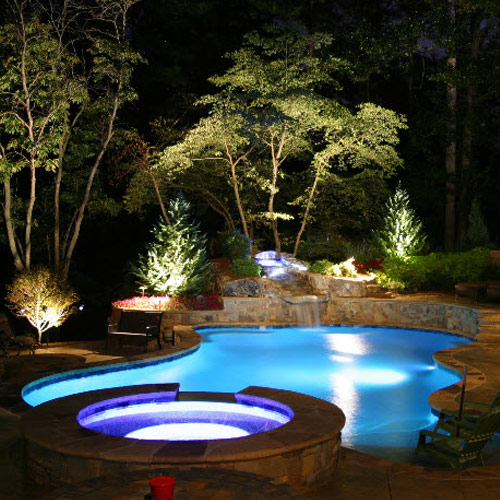 Excellent work! We couldn't be more pleased and the work that The Light Guys did was amazing. We are going to take full advantage of our backyard this summer!

- Andy & Susie Gladstein
Bakersfield home owner
Landscape Lighting Reviews
Weddings
•

Parties

•

Installs

Let's Light It Up!