Bakersfield String Lighting
for a good-looking backyard.
Let us install beautiful Bakersfield String Lighting in your
home's backyard or courtyard.
Learn More
For Bakersfield string lighting, cafe lights, bistro lighting, and patio lighting installation, repair, and replacement, you've come to the right place! Here at the Light Guys, we pride ourselves on being the go-to lighting company in the Bakersfield area. Every installation is extensively pre-planned by expert company designers and electricians to ensure a smooth process and a beautiful, illuminated result. So, what are you waiting for? Contact us for help designing the Bakersfield string lighting scheme of your dreams!
Looking for Patio Lighting in Bakersfield? We Can Help
Well-designed and implemented patio lighting in Bakersfield can make all the difference in the world. Patio lights can transform your boring back patio into an oasis of summertime fun, or even into an icy winter wonderland. Whether you want to create a warm, inviting space, or a relaxing, cool and comfortable patio for grilling with friends, the Light Guys have you covered.
We Install, Repair, and Replace Bistro Lighting in Bakersfield
No lighting job is too big or too small, we work with any style or budget to create the perfect lighting effect for your space. Our LED bistro lighting in Bakersfield is the ideal choice for lighting a patio, deck, porch, or garden. They're also a highly sought-after option for parties, weddings, special events, and even backyard barbecues. Bistro lights create an inviting atmosphere, perfect for dining, parties, and general events.
Contact the Light Guys for Bakersfield String Lighting Services Today!
We are experienced lighting installation professionals who have been bringing warm and wonderful lighting and décor services to residential and commercial customers throughout Bakersfield California since 2008. So, if you've been looking for a company that can provide you with professional outdoor string lighting, then you've come to the right place! Contact our team of Bakersfield string lighting professionals to schedule service today!
Kick-off your
summer right with Bakersfield String Lighting.
Transform your backyard with Italian-style lighting installed professionally by The Light Guys. All you have to do is bring the memories. We'll take care of everything else.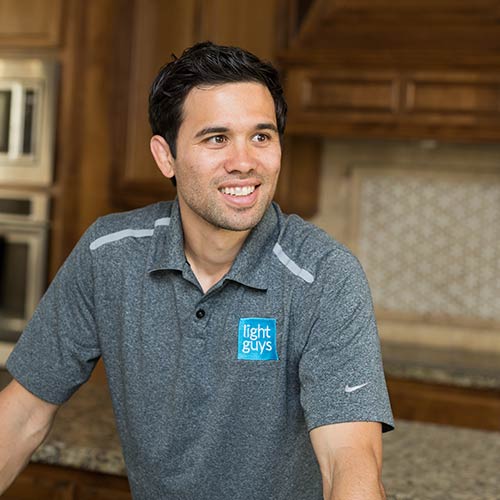 Excellent work! We couldn't be more pleased and the work that The Light Guys did was amazing. We are going to take full advantage of our backyard this summer!

- Andy & Susie Gladstein
Bakersfield home owner
Weddings
•

Parties

•

Installs

Let's Light It Up!